Marché Dauphine
Inaugurated in 1991, the Dauphine Market is the newest but also the biggest markets housing hundreds of antique dealers. A reference among other markets, the marché Dauphine is famous because of the diversity and abundance of authentic items: on the ground floor visitors will find classic quality items, while upstairs, a full space is dedicated to old books.
You will also find typical flea market objects like vinyl, photographs, prints, postcards at great prices. Surprise, charm, strangeness, and authenticity: this is what you will get at the Dauphine Market, within an architectural space made of glass and metal, that was inspired by the great achievements of the 19th century.
The specialties of the Dauphine Market
On the ground floor you will find antique shops, both offering general and specialized items: Primitive art, furnishings, paintings and sculptures from the 18th and 19th century, old textiles, musical instruments, watches and antiques of the 20th century (Art Deco , Design of the 50 to 70 and industrial furniture).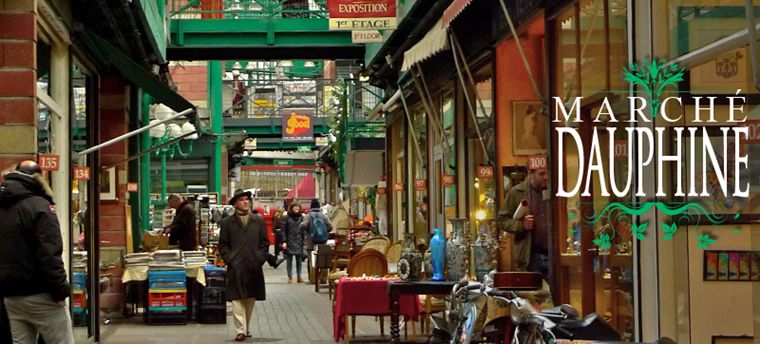 Upstairs, visitors will find a more "flea market -like" atmosphere: vintage clothing, jewelry, booksellers ("Le Carré des Libraires") focused on old books, photographs, etchings and lithographs. It is also on this floor that you will find the craftsmen with their workshops (paintings & frames restoration). In recent years, the music space ("Le Carré des Disquaires") located on the first floor, rallied in one of the wings, all merchants of vintage hi-fi equipment and vinyl.
To reach the upper floors of the marché Dauphine, visitors can use one of two elevators, escalators and several flight of stairs.
Where: 140 rue des Rosiers, 93400 SAINT-Ouen
Get there by Bus: 85, 95, 50, 137, 56, 60, 166, 255
Get there by Metro: Line 4 Porte de Clignancourt / Line 13, Garibaldi
Web: marche-dauphine.frEmail: [email protected]