Marché Biron
After numerous threats of eviction by the city, a group of flea market dealers established over the area, decided to settle on a piece of ground near the Vernaison Market. The marché Biron is the first market that was set up with stalls spreading along two parallel paths, and is recognized as the place where flea market visitors can find old quality furniture, gilt wood, glass …
The marché Biron was also the place where celebrities of that time (like Picasso, Utrillo, Andre Breton …) and amateur antique dealers came together.
Some sort of a "Faubourg Saint-Honoré des Puces"
Today, the marché Biron is nicknamed "the Faubourg Saint-Honoré des Puces", as it is the place within the St Ouen flea market where famous and influential customers meet. This is the place for high-end merchandise: furniture, paintings, tapestries, mirrors, lamps, tables and art dating back to the eighteenth, nineteenth, twentieth centuries.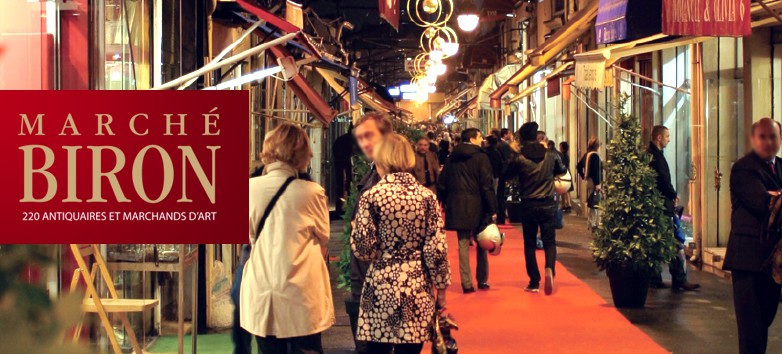 The marché Biron is the delight of French and foreign professionals (designers, celebrities, political figures …), who are on the look for treasures and unusual objects.
A tour on their website will give you a pretty good idea of the quality level of the items sold there. There is even an online catalog available to give you a preview of what is on sale.
Where:  (85 rue des Rosiers, 93400 Saint-Ouen)
Get there by Bus: 85, 95, 50, 137, 56, 60, 166, 255
Get there by Metro: Line 4 Porte de Clignancourt /Line 13, Garibaldi
Web: marchebiron.frEmail: [email protected]