Marché Vernaison
First market established in 1920, the Marché Vernaison is one of the markets that has remained the most faithful to the old flea market spirit. Roman Vernaison, a dealer at the halles centrales de Paris and landowner in Saint-Ouen, was the first to install prefabricated wooden huts in the current St Ouen flea market location.
"The Village spirit" of this market attracted back then many antique shops, discount stores or furniture dealers. Very quickly, the market Vernaison became a reference and witnessed the success of the Flea Market of Paris Saint-Ouen.
Specialized Stalls at the St Ouen flea market
Even today, the Marché Vernaison matches what flea market visitors love most: the authenticity of the place. With the largest number of specialized stalls, ranging from furniture to old toys and glassware, the Vernaison market remains a haven for flea market junk. The bistro-tavern "Chez Louisette," where you can always have a sweet break at the sound of the accordion, was once the star attraction of the Vernaison Market.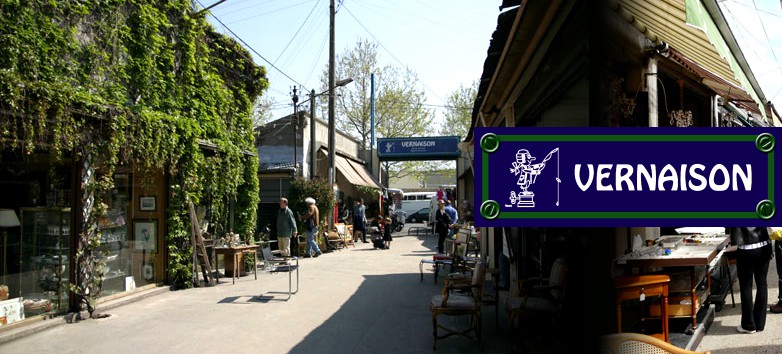 Always in motion and following the evolution of fashion, merchants of furniture from the 70s as well as professional of "vintage" fashion, offer great designer items that made the reputation of France to the delight of flea market bargain hunters.
Put yourself in the mood, and enter the place through one of the four doors. If you arrive by the rue des Rosiers, you will directly get inside the market Vernaison. Do not get lost, because the maze of galleries spread over 9 000 square meters! The meandering walkways, whose layout is pretty much the same since 1920 (when Roman Vernaison first erected wooden huts in which "ragpickers" or "bargain hunters" settled to sell and trade) will take you through covered passages and narrow alleys within the flea market, where you will feel like an explorer for a day.
Everything is surprising at the Marché Vernaison: you can find typical flea market items ranging from simple dishes to stethoscope, or a deep sea diver copper outfit. The Vernaison Market also offers the opportunity to acquire beautiful silverware, antique fabrics, and excellent tapestries. In spring, it is under the wisteria and honeysuckle that connoisseur can buy very beautiful clocks of all ages, with the guarantee that it is fully operating, as well as beautiful furniture form the 18th and 19th century.
Where: 136 avenue Michelet, 93400 Saint-Ouen
Get there by Bus: 85, 95, 50, 137, 56, 60, 166, 255
Get there by Metro: Line 4 Porte de Clignancourt / Line 13, Garibaldi
Web: marcheauxpuces-saintouen.com
email: [email protected]