If you have recently browsed an interior decor magazine or Pinterest home decor category pages, then you might have come across those peculiar yet charming glass domes that seem to light up any room by their own presence.
Cloches, also known as bell cloches, glass domes or bell jars, are more than ever back in home decor. Derived from the french word for "bell", cloches were originally made of a solid piece of glass shaped like a dome. They were used in the 18th century by French gardeners to protect early garden plants from bleak cold and frost, and hasten crops to maturity.

In the 19th century, cloches where mainly used by naturalists as tiny Wunderkammer to showcase their delicate finds like insects, plants or small taxidermied animals.
Nowadays, these beautiful glass domes help sublimate any object, by making it look like a small trophy or a tiny world of its own. Cloches can showcase almost anything and be placed anywhere to bring a refined decoration touch, protect and display cherished object and recreate this precious atmosphere inspired by curiosity cabinets.

What type of item(s) can I showcase under a cloche?
Cloches can house any type of (reasonably sized) object and in any quantity, from rare orchids and objects of curiosity, to a collection of antique pocket watches. There are no rules regarding what can be showcased and what cannot. It's just a matter of taste. So be dairy!
However, keep in mind that the cloche's empty space is just as important as the object itself you wish to feature; so be careful not to overdo it or overload the space available under the dome. Sometimes, less is more. Particularly when it comes to home decor and design.
For instance, one can choose to showcase a single object in order to highlight it (a feather, a vintage light bulb, a dried flower, a bird nest… even an old rusty sign!).
Or opt for a collection of stacked objects (old books shards of antique glass or ceramic, black & white pictures, music scores, sea shells, pebbles…).
The most adventurous and experienced decor enthusiasts can even try to recreate a still life by combining together elements like wood, moss, stones, and taxidermied insects. The idea is to turn a "simple" object into a precious thing you wish to showcase. Whatever you choose to do with your cloche, you will notice that it almost systematically draws attention to itself.
Alternatively, a plant can also be placed under the cloche, provided you manage to bring it air from times to times. It is generally advised to use specific types of plants, like cactus or succulents, which are known as being usually durable.
Where can I find a cloche and how much does it cost?
Highly desirable and trendy, cloches can be found almost anywhere. As a matter of facts, many department stores now sell them in different seize and variations. Depending on your taste and budget, you will be able to choose between a simple glass or plastic dome and more fancy variations featuring for instance a dome with a vintage-like wooden pedestal inspired by Scandinavian design.
However, the best place to find them are of course flea markets or antiques shops. If the object itself matters just as much as what it holds, and if you're not too much in a hurry, we highly recommend you to look for a genuine cloche. Unlike newer editions, old glass cloches see their value increase overtime, particularly if they're in mint condition. Earlier this month, we attended the Grande Braderie de Lille. And we spotted quite a few vintage cloches, like the one pictured below, without even searching!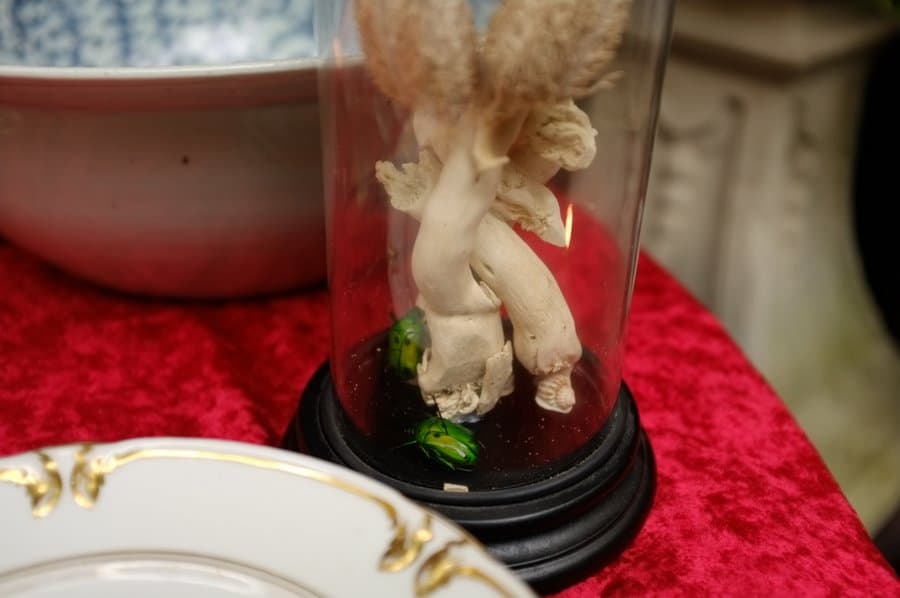 In terms of price, "modern" cloches are generally sold somewhere between $30 and $100 (like on Houzz), while a vintage glass vacuum laboratory bell jar can easily reach $300. Once again, your budget will mostly depend on what you want to achieve with those cloches, and how many of them you need.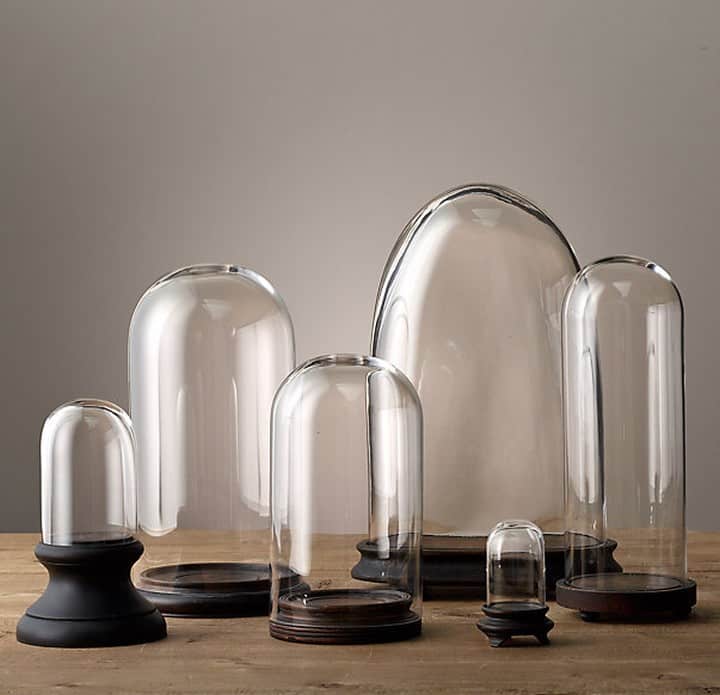 If you're short of original cloches (or on a tight budget…), one great advice is to mix contemporary and sophisticated vintage glass domes with genuine cloches found at the flea market. Alternatively, you can try your luck on eBay and Etsy, which have a pretty interesting selection of reasonably priced old and new cloches.
One last tip: if you do not have glass domes of different heights, you can use a stack of books to bring some variety in your collection!