Maine is most well known for its jagged coastlines, mountain landscapes, and delicious lobster. There are plenty of reasons to visit this state, and with more and more people heading there to experience this slice of American culture, the time is perfect to highlight the growing flea market scene that is simply blooming in Maine.
Many of the most popular flea markets in Maine are seasonal, opening from Spring until Autumn each year, but there are plenty to choose from and a some of them even brave the colder seasons too.
Heading to the local Main flea markets can be the best way to really become immersed in the local culture, get to meet the residents and of course find the perfect souvenir to bring away from the trip. With that in mind, here is a selection of 10 antique stores and flea markets in Maine that we feel should not be missed!
Flea Markets in Maine #1: Montsweag Flea Market
Having just celebrated its 40th anniversary last year, Montsweag Flea Market is all set to make its 41st summer of trade its best yet. It boasts to be mid-coast Maine's largest outdoor flea market, and it tends to grow just a little year on year. Montsweag Flea Market is a family-run affair, which makes it all the more appealing and promotes a really wholesome vibe throughout the market.
On an average day, there are pieces of furniture, vintage tools, antique artwork, other household items, toys, suitcases, kitchen ware and huge amounts of random curios just awaiting a new owner. Montsweag Flea Market certainly has something for every taste and every budget. No wonder why it is #1 on our list of the best flea markets in Maine!
Where: 6 Hunnewell Ln, Woolwich, ME 04579, USA
When: Wednesday, Friday, Saturdays and Sundays:  06:30AM – 5:00PM
Web: montsweagfleamarket.org
Flea Markets in Maine #2: Portland Flea-For-All
For those that like to head into one building to fulfill all shopping needs, whatever the weather, the Portland Flea-For-All is absolutely the place to go. Featuring three stories full of second hand goods with a great deal of antique and collectable items thrown into the mix, the Portland Flea-For-All is definitely a hard complex to leave empty handed.
On an average day, the Portland Flea-For-All overflows with old posters, antique chairs, military paraphernalia, vintage wall maps, furniture (much of which has been up-cycled), jewelry, clothing, photographs, and purses. It is easy to get lost in nostalgia while wandering through the floors of this antique store.
Where: 585 Congress St, Portland, ME 04101, USA
When: Friday, Saturdays and Sundays:  10:00AM – 6:00PM
Web: portlandfleaforall.com
Flea Markets in Maine #3: Cabot Mill Antiques
When it simply must be antiques, antiques and nothing but antiques, the 1400 square meters of Cabot Mill Antiques needs to be the destination to head to in Maine. This showroom and market has been around since 1996, and this multi dealer emporium is known as one of the largest multi-dealer malls among all flea markets in Maine, attracting antique enthusiasts and collectors from close to home and overseas!
Cabot Mill Antiques features more than 160 displays selling antiques, and there are plenty of eye-catching pieces to be found. From hand-embroidered linen tea towels and mink stoles, to ceramic crockery, antique kitchen ware, old furniture, paintings, wrought iron, luminaries, silverware, vintage jewelery and many other items, Cabot Mill Antiques is a treasure trove for flea market enthusiasts and antique lovers. For a really relaxed and enjoyable time wandering around items from the past, it should not be missed.
Where: 14 Maine St, Brunswick, ME 04011, USA
When: Monday to Sunday: 10:00AM – 5:00PM
Web: cabotiques.com
Flea Markets in Maine #4: Hobby Horse Antiques and Flea Market
For a subtle hint as to what kind of shopping experience the Hobby Horse Antiques and Flea Market offers, one only needs to glance at the tagline of their website: "Always a great selection of moose antlers". This is an emporium that is grounded in Maine, and offers a peek into the cultural past of this area of the United States.
Pricing of the goods for sale at the Hobby Horse Antiques and Flea Market is generally fair, but as with almost all flea markets in Maine the vendors are all ears if alternative prices are offered. Often, bargaining is an easy way into extended conversations with the stall-holders, and they make for a friendly and eclectic bunch at Hobby Horse Antiques and Flea Market.
Where: Rt 1 383 E Main St, Searsport, ME 04974, USA
When: Every day of the week (closed on Tuesdays):  09:30AM – 5:00PM
Web: hobbyhorseantiquesmarketplace.com
Flea Markets in Maine #5: Elmer's Barn of Junk and Dead Things
Elmer's Barn of Junk and Dead Things pretty much delivers what it says on the tin: it's a large barn, belonging to Elmer, and it's stuffed full of junk and a few dead things, though there is not so many of the dead things of late. This store has been in existence for just over 40 years, and in its lifetime has been improved and expanded significantly. It now stretches over three floors and includes an antique mall with almost 50 vendors and is quite the sight to behold.
The owners have a lifetime of knowledge of the second-hand industry and ensure that there is a wide and unique range of goods on offer in the barn. They certainly have an eye for the unusual, and visiting Elmer's Barn is always an inspiring treat.
Where: 107 Rockland Rd, Whitefield, Maine 04353, USA
When: Monday to Sunday:  10:00AM – 5:00PM (call +1 207-549-7671 to verify)
Web: facebook.com/pages/Elmers-Barn
Flea Markets in Maine #6: Freeport Emporium
Freeport Emporium is a relative new-comer to the world of antique stores and flea markets in Maine. The slightly shabby exterior is housing three floors of antique and second hand items with more than 150 dealers waiting to engage shoppers with the knowledge and wares. It is a little bit of a hidden gem, and well worth stopping by.
Freeport Emporium features a great selection of items for sale. These include antique globes, toys, ceramic jugs, watering cans, items of furniture, pieces of artwork, lamps, woven baskets, textiles, glass ware and wall charts. It is a really wide ranging collection of goods, with truly something for everyone.
Where: 291 US-1, Freeport, ME 04032, USA
When: Monday to Sunday: 10:00AM – 5:00PM
Web: facebook.com/freeportemporium
Flea Markets in Maine #7: Arundel Antique Village
Arundel Antique Village is a good sized flea market that has now been running for more than 40 years. It can be easy to simply drive on by, so make a point of mapping the location and adding this spot to the list of places not to be missed!
Though it is a year round market, Arundel Antique Village can be hit and miss when the weather is poor as many of the dealers will not bother putting their tables out. But arrive on a fair day and there is almost no limit to the treasure on offer. Shoppers need to prepare for a super early start though, as serious bargaining is often done before 7am at this flea market.
Where: 1713 Portland Road, Arundel, ME 04046
When: Monday to Sunday: 10:00AM – 5:00PM
Web: arundelantiquevillage.com
Flea Markets in Maine #8: Raceabout Market
Raceabout Market is very much a community endeavour, providing a free-of-charge trading space for anyone with second hand items, farmers' market goods or arts and crafts to put out for sale. There is obviously a wide selection of items found here, and there are some excellent stalls that specialize in antiques.
The vendors selling at the Raceabout Market are extremely knowledgeable and friendly, and it is clear that all involved want to encourage more custom and support for this event. A few hours can easily be spent here, and there are awesome fresh refreshments available at some of the stands.
Where: 950 Bucksport Rd, Ellsworth, ME 04605, USA
When: May 18th through Columbus Day (on whatever days vendors choose to set up): 8:00AM – 6:00PM
Web: facebook.com/RaceaboutMarket
Flea Markets in Maine #9: Nobleboro Antique Exchange
Nobelboro Antique Exchange offer a bit of everything from items for sale, to antique restoration to bespoke furniture design. It is a really interesting store, including books, tools, glass, silverware, furniture, pottery and art. The book collection in this store-cum-workshop-cum-household is especially impressive and includes many books on art, and also many of local origin.
Nobelboro Antique Exchange is much larger than it looks from the outside and has several levels within. New products are sourced on a daily basis, and if customers are searching for something specific the owners are more than happy to source items and provide this service. Nobelboro Antique Exchange is certainly worth stopping by for shopping, browsing and inspiration!
Where: 104 U.S. 1, Nobleboro, ME 04555, USA
When: Every day of the week (closed on Wednesdays):  9:00AM – 5PM
Web: antiquex.net
Flea Markets in Maine #10: Great Stuff! Consignments
GreatStuff! Consignments gathers beautiful, unique and unusual antiques, home furnishing and art from people all up and down the coast of Maine. These goods are all for sale and displayed in a very appealing fashion in a lovely, bright shop.
Items sold at GreatStuff! Consignments are discounted on a monthly basis by 15%, and there is always someone on hand to answer questions. The staff are very friendly and always make customers feel extremely welcome in their store. There are a lot of antiques, old fashioned items such as artwork, china, dishes, glassware, vintage clothing and home furnishings/decor.
Where: 125 US-1, Freeport, ME 04032, USA
When: Monday to Saturday (closed on Sundays):  10:00AM – 5:00PM
Web: facebook.com/GreatStuffMaine
Bonus: US flea markets on a map!
You can now visualize the best flea markets and antique fairs in the US, on a map! Not only have we included all the above flea markets, but we've added to the mix some of the country's most acclaimed antique fairs. Just click on the image below to access our map feature for free.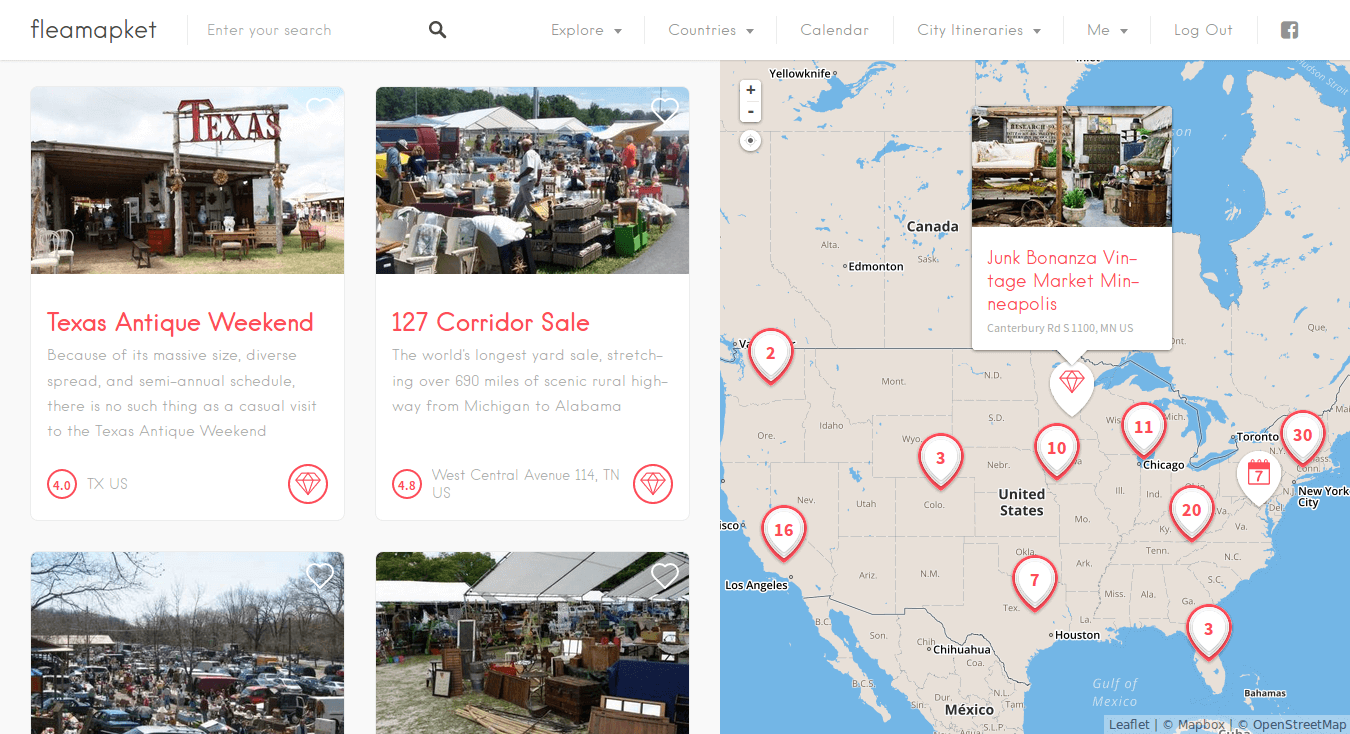 ---
A trip to the flea market is a journey in its own, a fantastic opportunity to meet new people and enthusiasts who share the same passion for rummaging and haggling. We hope this review of the best flea markets in Maine inspired you to discover some (or all!) of them. As always, if you think that a flea market is unrighteously missing from this list, just drop us a line in the comments section below. And if you're wondering what are the Best Flea Markets in the US, we have the answer!