If Toronto is renowned for its antique malls spreading along highway 401 and its active summer Ontario flea market scene featuring iconic venues like Prudhommes Antique Flea Market and Aberfoyle Antique Market, Montreal and Quebec City are all about high-end antiques.
Quebec has long been a legendary source of the best antiques in Canada. The province, which has played a crucial role in French history, occupies nowadays much of the land where French settlers founded the colony of New France in the 17th and 18th centuries. No wonder why Quebec City, Montreal, and Centre-du-Québec have become antiquing hubs in Canada! The area is home to one of the largest networks of antique dealers and collectors in the country, as well as talented craftsmen in antique furniture renovation and antique furniture design.
The Best Antique Markets and Flea Markets in Quebec City, Quebec
Even if you can afford them, good antique pieces are increasingly hard to find in Canada nowadays. One good place to start antiquing is the Rue Saint-Paul in the Old Port area of Quebec City. Once crammed with over 15 antique stores, this restored community of 18th-century houses is still one of the liveliest in the province. It hosts since the early 1970s the most famous antiques row in the country with stores like Antiquités Bolduc and G & M Bourguet Antiquaires Inc that sell since 1967 collectibles from 1800s to 1900s.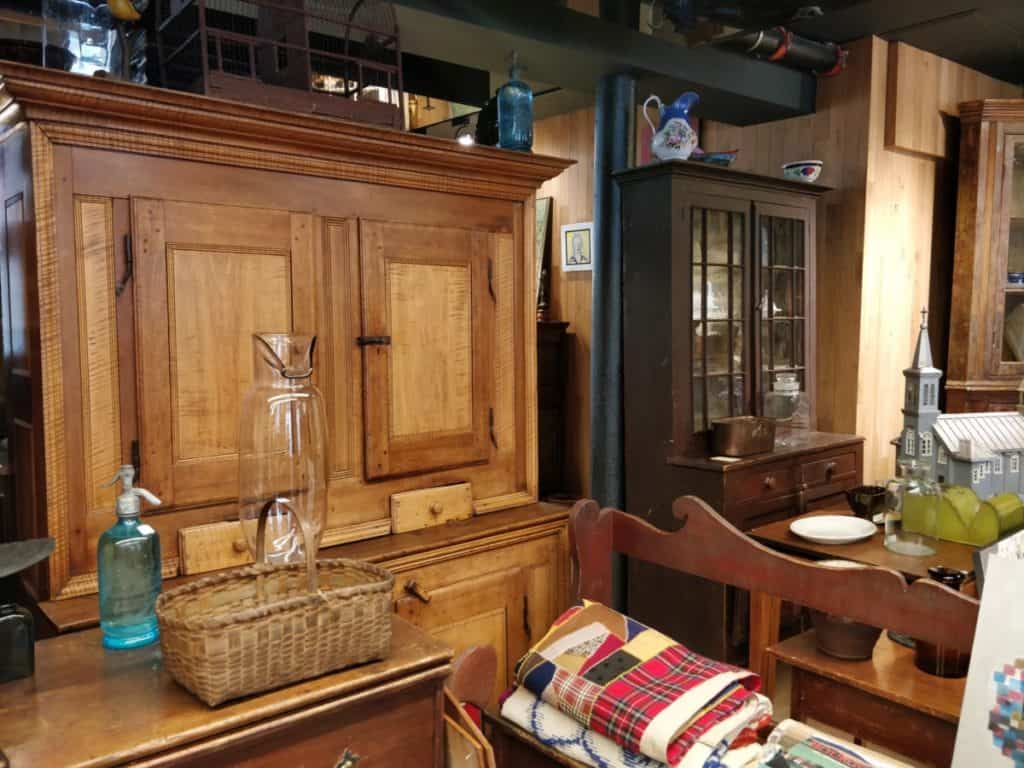 Antique buffs will find jewelery, busts and trinkets, assortment of furniture from different periods, folk and religious art, antique cabinets, benches, chairs, buffets, dressers, chests, lamps, and many other authentic items from Quebec, Canada and Europe.
1. Antique District – Quebec City
The 400 meters stretch of the Rue Saint-Paul (and the connecting Rue Saint-Pierre) in Quebec City's Antique District holds no less than 8 antique stores and vintage shops. This incredible density of precious vintage and antique wares makes is a unique shopping spot in Quebec, and collectors must make sure to head here.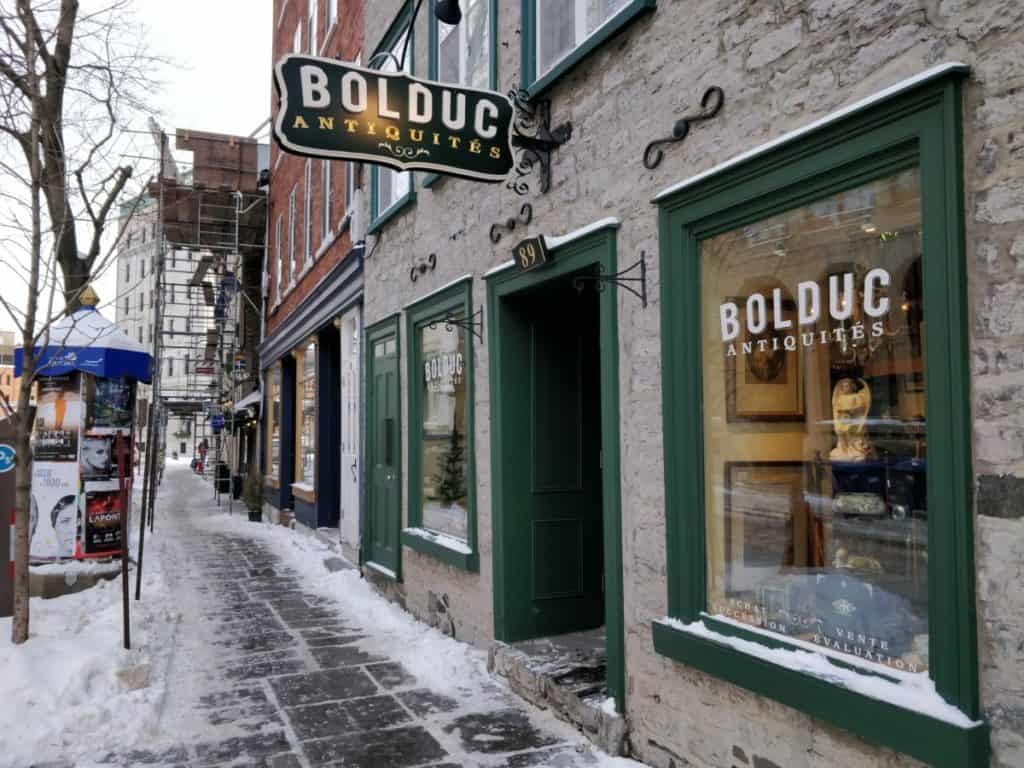 The history encompassed within the stores of Rue Saint-Paul and Rue Saint-Pierre is fascinating and reflected in the items for sale. The shop owners are inexhaustible sources of information when the time comes to tell the story behind a specific piece they sell. So antique buffs that enjoy having unique items with character in their homes are going to be hard pushed to leave empty handed this area near the Old Port of Quebec City. The Rue Saint-Paul and the Rue Saint-Pierre are a treat for any shoppers and collectors alike, and stores like Antiquités Bolduc and G & M Bourguet Antiquaires Inc guarantee an entertaining journey through bygone days.
The Rue Saint-Paul also takes visitors to some of the many attractions of Old Quebec City including, among others, the Museum of Civilization, Place Royale, the Petit-Champlain district and the famous Saint-Roch district, one of the oldest working-class suburbs which has nowadays become the trendy downtown district in Quebec City. Although antiques, art and history have a prominent place in the crescent of the Old Port, it is definitely in its arteries that travelers will find some of the best restaurants in Quebec, from fine French cuisine to local specialties.
Where: Rue St-Paul & Rue Saint-Pierre, Québec, QC G1K 3V9
When: Opening hours vary between stores
Web: https://www.fleamapket.com/listing/quebec-city-antique-district/
2. Encans Gelineau & Fils – Quebec City

Large, spacious, and filled to the brim with extraordinary antiques and art, Encans Gelineau & Fils is one of those stores that needs to be seen to be believed. Besides some exquisite collectibles that can be purchased almost every day of the week, Encans Gelineau & Fils also carries out weekly auctions, to cater to visitors seeking particular collectibles.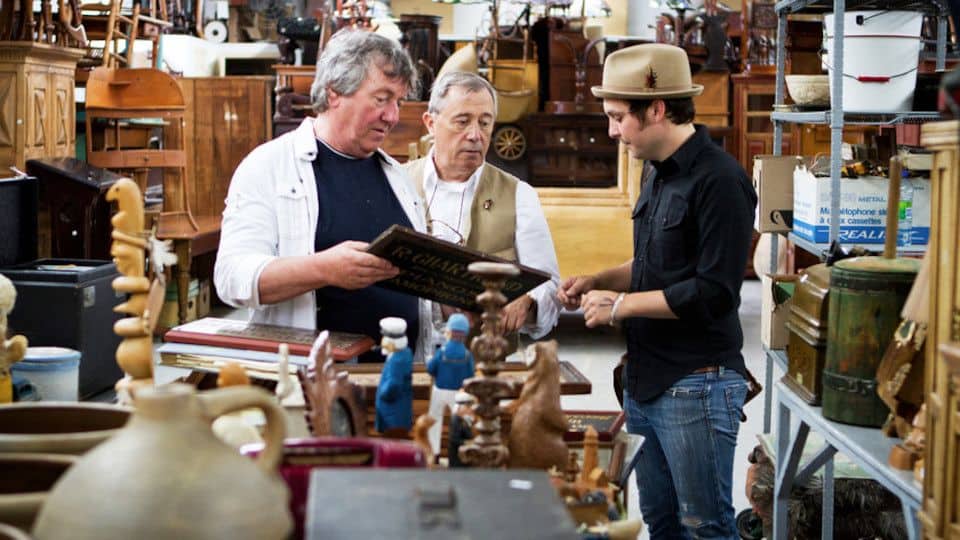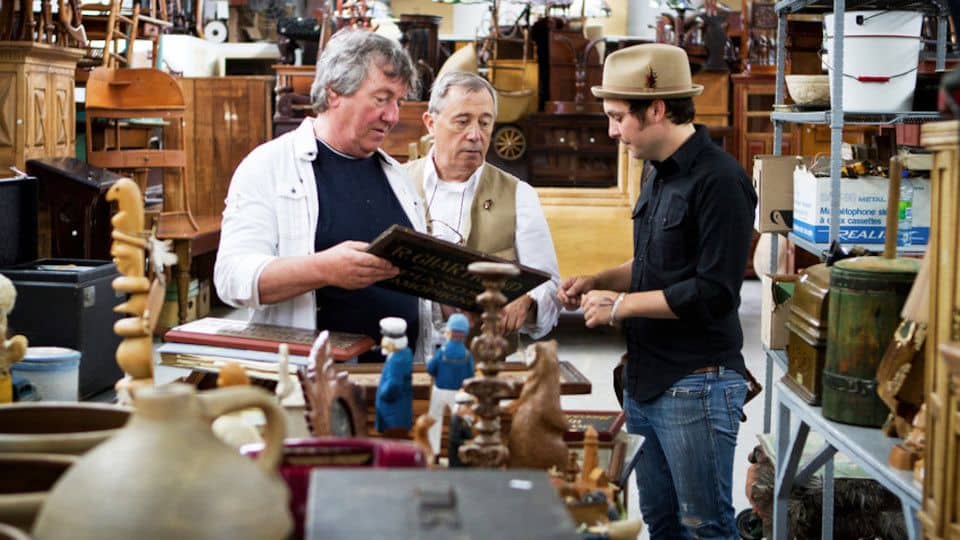 It is easy to get lost in wonder in Encans Gelineau & Fils. The owners have a clear passion for antiques and vintage goods, and their curating for the store is second to none. Anyone looking for some experience in an auction setting should definitely head here, as should anyone with any interest in antiques. You will not be disappointed.
Where: 7900 Bd Laframboise, Saint-Hyacinthe, QC J2R 1G7, Canada
When: Monday – Friday: 9:00 – 17:00, Saturday: 11:00 – 15:00
Web: https://www.fleamapket.com/listing/encans-gelineau-fils/
3. Marché aux puces de Sainte-Foy – Quebec City

The Marché aux puces de Sainte-Foy is a very large flea market, open over late summer and autumn months. It takes over a car park right next to the Sainte-Foy Bus Terminal in Québec City, and vendors tend to return year after year. As a consequence, many know each other, call out to each other, and visitors can feel as though they have stepped into a large family gathering.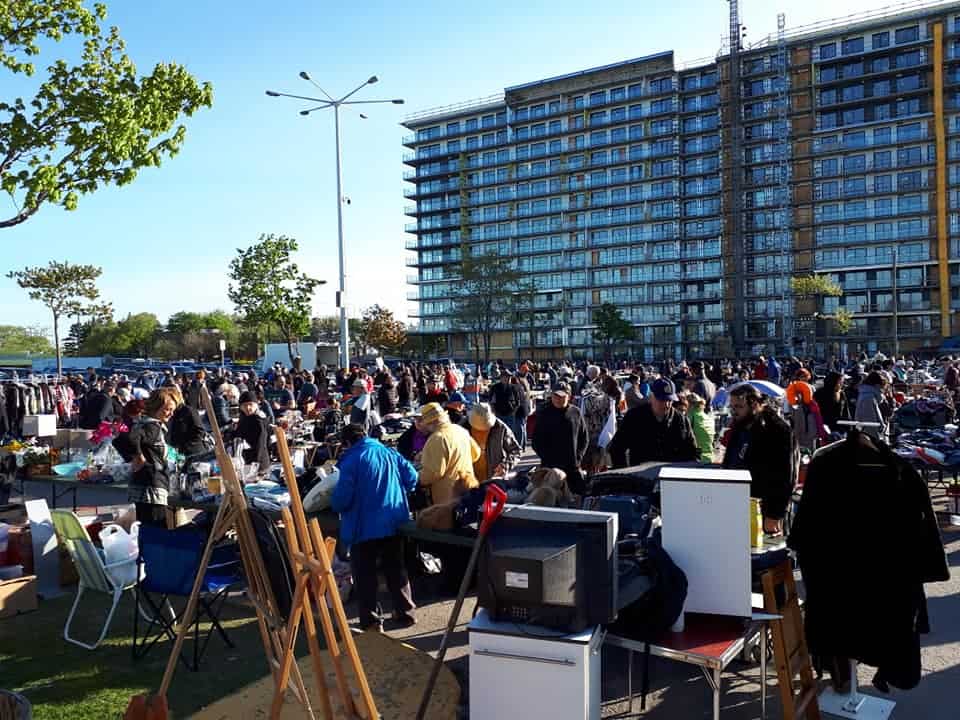 As it is the case with most flea markets, an early arrival to Marché aux puces de Sainte-Foy will give you the first chance at the offerings, all the more so as vendors have been known to start selling from 5:00 am! Whatever the time of day, there is always much to see at the Marché aux puces de Sainte-Foy, and visitors early or late are certain to leave with their hands full.
Where: 930 Ave Roland Beaudin, Quebec City, QC G1V 4H8, Canada
When: May – October: Sundays, 5:00 – 16:00
Web: https://www.fleamapket.com/listing/marche-aux-puces-de-sainte-foy/
The Best Antique Markets and Flea Markets in Montreal, Quebec
Montreal has almost as many good areas as Quebec City to go antiquing. Some of the best areas in the city for antiques are Notre-Dame West, Downtown near McGill, and Westmount from Green Avenue to Boulevard Décarie. In particular, the antique district is a must in the discovery of the city of Montreal.
Often described as a truly human and urban adventure, the antique district is principally located on Notre-Dame Street West (between Guy Street and Atwater Avenue) and extends over to Atwater Avenue and the Saint-Henri neighborhood.
Some of the most emblematic venues of Montreal's antique district include l'Hôtel des Encans, Grand Central Inc., Rowntree Antiques, and Milord Antiquités. There, you may find a few of the great Quebec pieces of furniture and silver, European country furniture, lamps and decorative objects that are so hard to get now.
1. Antique District – Montreal
Montreal's Antique District has a well-established reputation and is a must for anyone interested in discovering a little history about the city, as well as being a treasure trove for antique hunters and serious collectors. Often defined as a truly urban and human adventure, Montreal's Antique District is mainly found on Notre-Dame Street West (between Guy Street and Atwater Avenue), and is best explored by allowing a day to get lost among the gems here.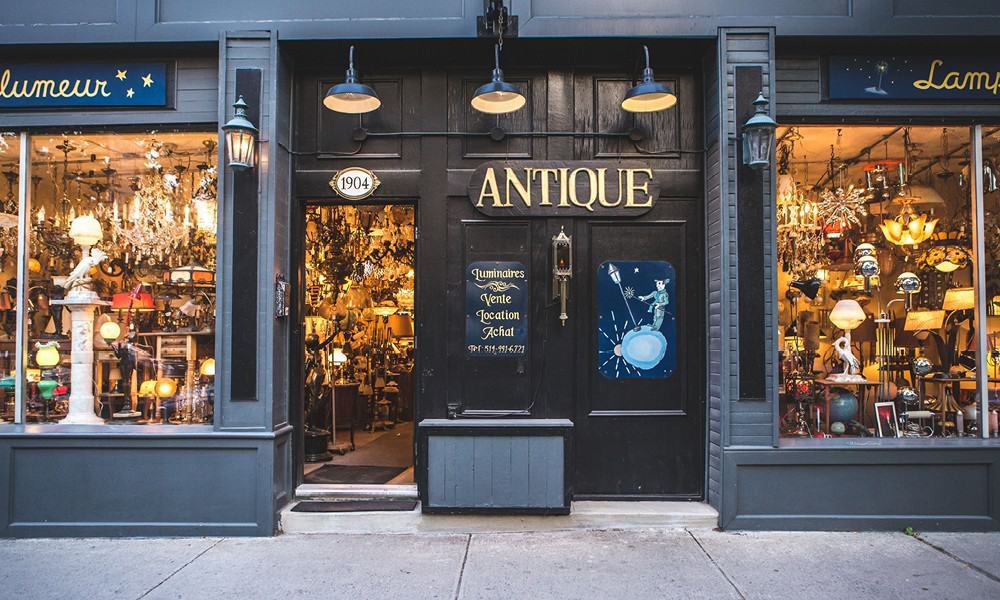 Antique dealers in Montreal's Antique District specialize in merchandises more local to the area, though antiques from further afield and even abroad are also featured. Antique shops like L'Allumeur, Baronne de l'insolite, Antiquités L'Ecuyer, Antiquités Rowntree, or Grand Central Inc. offer a wide range of items ranging from Mid-Century Modern and Scandinavian, to Bauhaus, the Arts and Crafts, Rococo, Experimental, Kitsch, Romantic, Retro, and Industrial.
Where: Notre Dame Street West, Montreal
When: Opening hours vary store to store
Web: http://lesquartiersducanal.com/en/things-to-do/visit-antique-district-montreal/
2. Grand Central Inc. – Montreal
For those with a qualified interest in decorative arts and high-end home furnishings, Grand Central Inc. needs to be on the list of must-see stores when visiting Montreal. Located in the heart of the antique district since the late 1970s, Grand Central Inc stands out with its Victorian building housing, and its collection of antique light fixtures and the Decorative Arts of the 18th, 19th and early 20th centuries.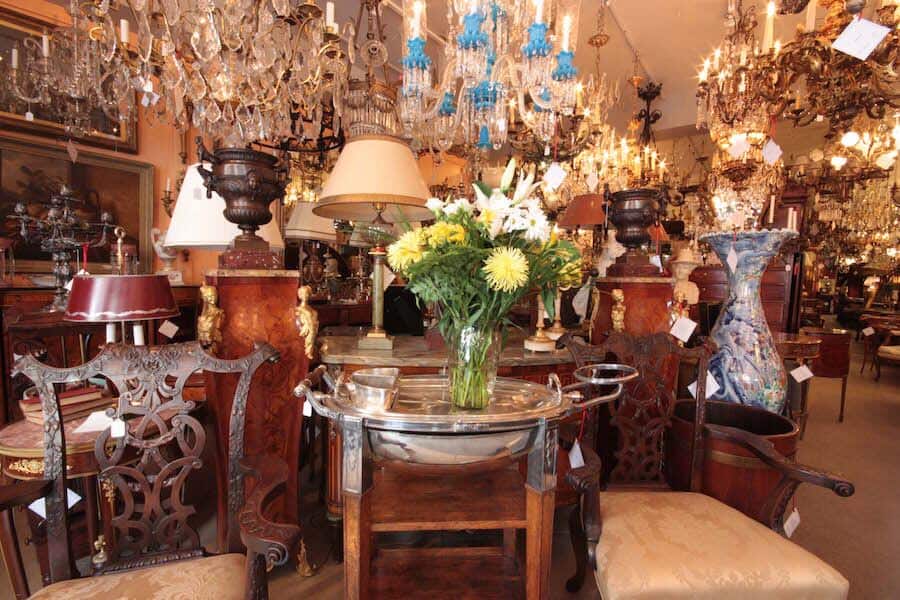 The expertly curated collection of Grand Central Inc. will appeal to anyone searching for that unique item for their home. The main specialty of the store is antique chandeliers and sconces, but there is also an extensive selection of antique furniture, sculptures, clocks, porcelain and objects d'art. The staff of Grand Central Inc. is very knowledgeable and happy to help all, ensuring that no visitor with an interest in antiques will leave the place empty handed.
Where: 2448 Notre-Dame West, Montreal, QC H3J 1N5
When: Monday – Friday: 09:30 – 17:30, Saturday: 11:00 – 17:00
Web: https://grandcentralinc.ca/
6. Lachute Flea Market – Montreal

Lachute Flea Market is one of the most popular, and by now famous, flea markets in the vicinity of Montreal. It has been operating since 1955 and has been regularly featured on TV shows, national newspapers and radio shows. It is a friendly, bustling, busy flea market, with a little bit of everything on sale to cater to every tastes.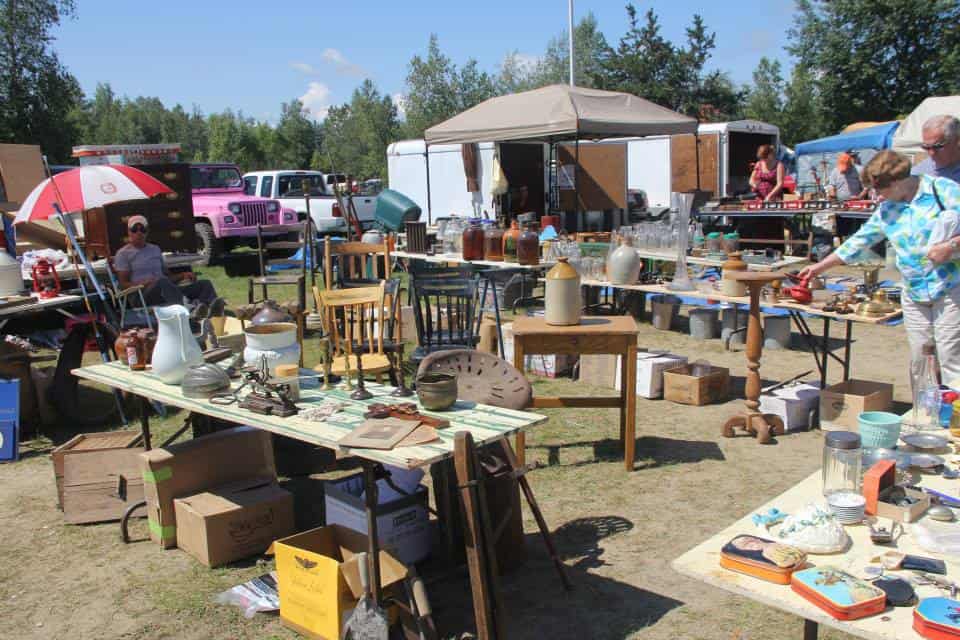 Open twice a week, the Tuesday market tends to be the larger and busier of the two, with a farmer's market alongside the antiques and flea market. Those with an eye for particularly fine antiques are advised to arrive before dawn to rummage through treasures and trinkets. Vendors and shoppers alike are incredibly friendly and it's clear everyone enjoys spending a few laid-back hours delving into the stalls of the Lachute Flea Market.
Where: 25 Rue Principale, Lachute, QC J8H 3X2, Canada
When: Tuesdays 05:00 – 17:00, Sundays: 9:00 – 16:00
Web: https://www.fleamapket.com/listing/lachute-flea-market/
7. Marché aux Puces Saint Michel – Montreal

Located a bit out of the way in an unsuspecting, run-down old warehouse on the Cremazie highway, the Marché aux Puces Saint Michel can be a genuine adventure worth the extra effort to get there.
In contrast to the organized, carefully arranged window displays of Atwater's well-known antique district, visitors may find the Marché aux Puces Saint Michel utterly chaotic. With two floors to explore, there is so much to see here that it almost feels like walking around a museum rather than a flea market: from genuine vintage furniture, to retro toys, snappy dresses, crockery, ancient tools, antique books, vintage road signs, and way more, it is a real treat to get lost in this maze full of precious junk.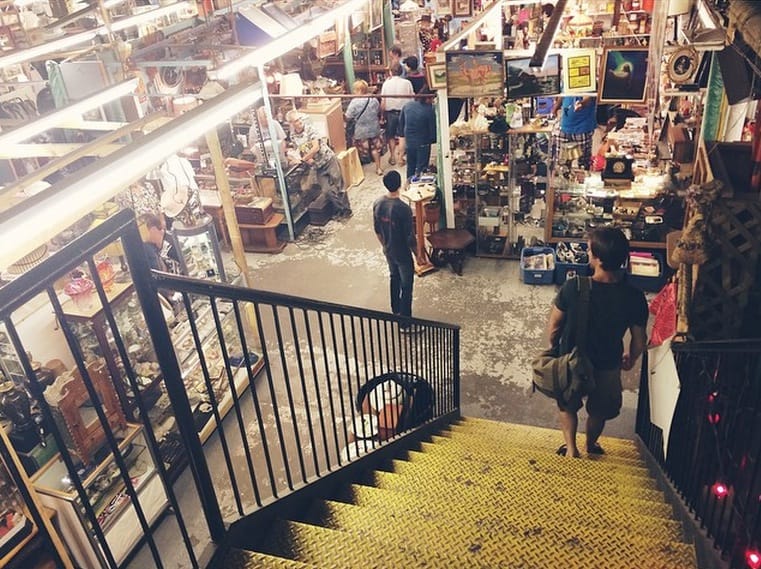 The Marché aux Puces Saint Michel is a weekly flea market held over Friday, Saturday and Sunday. Fridays tend to be a little quieter, with both fewer vendors and customers, so for the best items and bargains, plan for a Saturday or Sunday visit. Since this flea market is all under cover, it is held rain or shine (or snow). Flea market enthusiasts hunting with an open mind for eclectic home accents, are almost guaranteed to find some unique conversation pieces at the Marché aux Puces Saint Michel.
Where: 7707 Avenue Shelley, Montréal, QC H2A 3N9, Canada
When: Friday, Saturday, Sunday: 09:00 – 17:00
Web: https://www.fleamapket.com/listing/marche-aux-puces-st-michel/
8. Finnegan's Flea Market – Montreal

Finnegan's Flea Market is charming, and by now a part of the local history of the town of Hudson, Quebec. Open once a week from the first Saturday in May to the last Saturday in October, Finnegan's market is hugely popular, partly due to its proximity to Montreal. And this, combined with the country setting with a view of the Lake of Two Mountains and six acres dedicated to vendors, complete Finnegan's Flea Market's wide appeal in the province.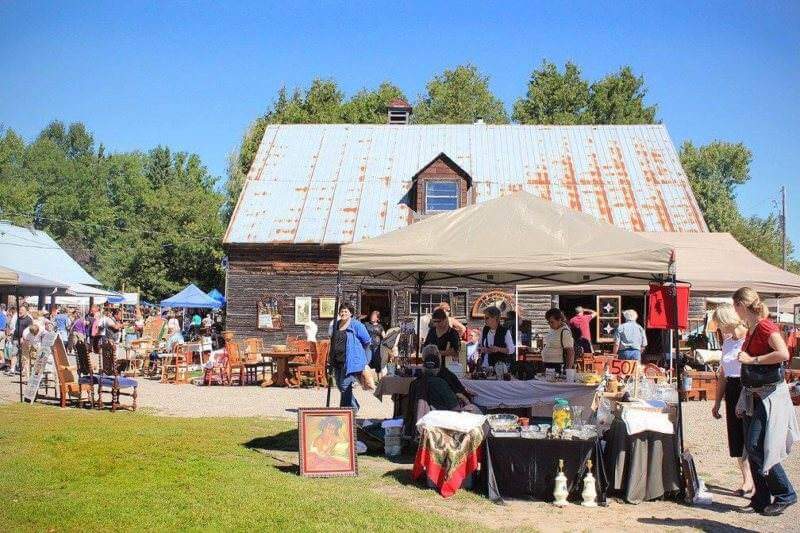 Antiques, collectibles, handmade items and furniture are but a small selection of the vast range of goods at Finnegan's Flea Market all waiting to be discovered. Besides the stalls selling typical flea market merchandise, organic vegetables and hot dogs, there is a barn full of antiques (both restored and reproductions) which is open year round by appointment.
Many of the vendors at Finnegan's Flea Market have been selling their wares here for more than 25 years, and there is a true community vibe encompassing this event. New comers are welcomed with open arms, and are sure to return week after week!
Where: 775 Main Road, Hudson, Quebec J0P1H0
When: First Saturday in May to the last Saturday in October: Saturdays 09:00 – 16:00
Web: https://www.fleamapket.com/listing/finnegans-market/
4. Kitsch À l'Os – Montreal
Covering an area of over 2000 square feet, Kitsch À l'Os may seem at first a little bit overwhelming. However, this could not be further from the truth. Often referred to by locals as a treasure trove worthy of Ali Baba, Kitsch À l'Os is also incredibly well organized, with goods arranged into eight different themed apartments (each with a different name), making it easy and enjoyable for shoppers to stroll through.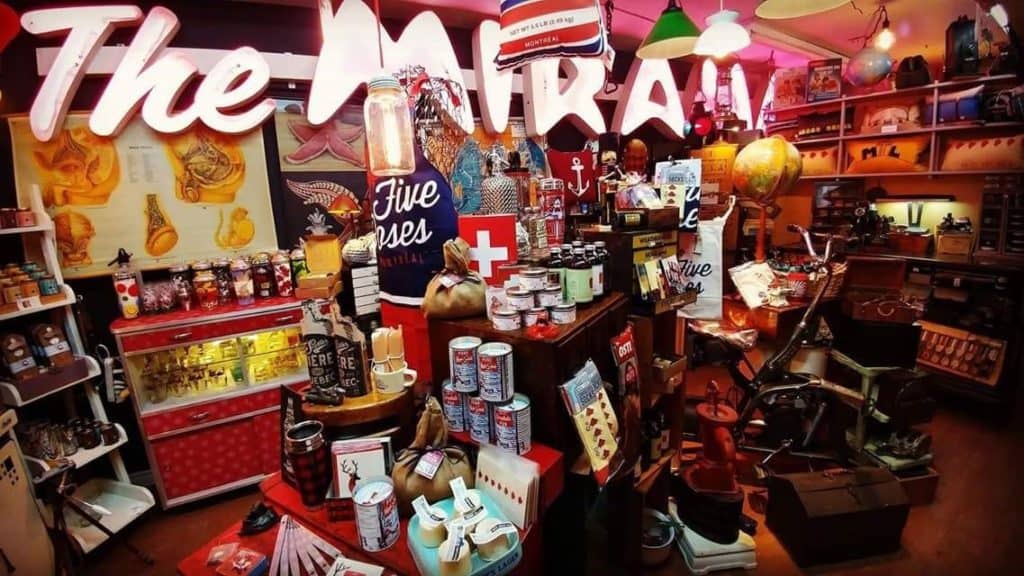 Kitsch À l'Os celebrates the past, with antique and vintage items from the early 1900s to the 1990s. Merchandise includes jewellery, vintage appliances, crockery, illustrations, vintage pull-down charts, publications, artisanal soaps, tonics, vintage garments, mixology utensils, fine porcelain, as well as decorative and industrial objects.
Most visitors are blasted with nostalgia as they meander through each rooms, and many of them make a list of things they want to take home with them. Anyone seeking a conversation starter for their house can be assured to find it here. Kitsch À l'Os also offers one of the most abundant selections of vintage (and new) Quebec-themed souvenirs like antique licence plates, road signs, and plaids.
Where: 3439 Rue Hochelaga, Montréal, QC H1W 1H4, Canada
When: Monday – Friday: 12:00 – 18:00, Saturday, Sunday: 12:00 – 17:00
Web: https://www.kitschalos.com/
5. Marché aux Puces Sainte-Genevieve – Montreal
Sometimes, dodging the rain can be part of the fun of hitting a flea market, and other times you just want to enjoy being dry. Marché aux Puces Sainte-Genevieve is an indoor flea market, spread over two floors that is open all year. So any time you simply must go bargain hunting, Marché aux Puces Sainte-Genevieve takes away the weather worries and invites you in.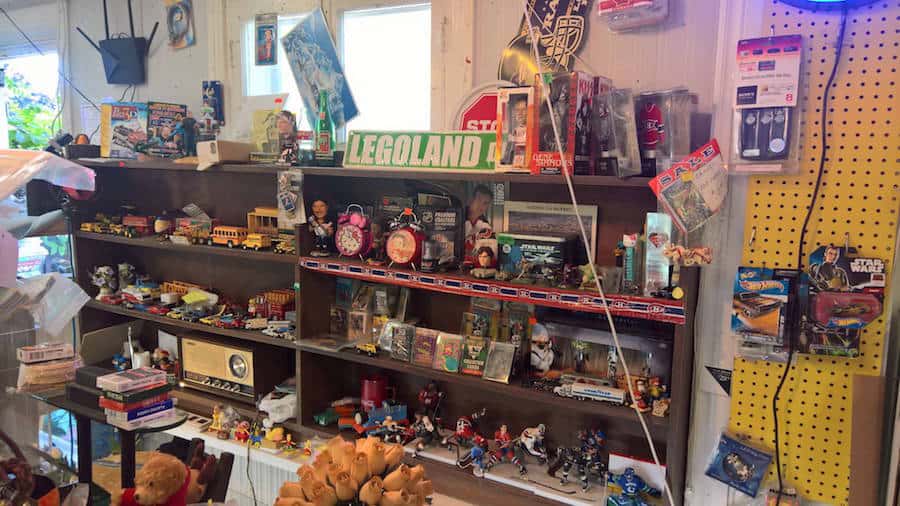 There is such a wide variety of goods found at Marché aux Puces Sainte-Genevieve that everyone's taste is certainly covered. Flea market buffs will find there genuine antiques, vintage items, dinnerware, jewelry, electronics, retro toys, sports memorabilia, collectibles and much more. Though open year round, vendors ensure to mix up their goods regularly, so there is always something new to be found. Antique treasures are dotted around too, so be sure to hunt thoroughly.
Where: 15674 Boul Gouin O, Sainte-Geneviève, QC H9H 1C4, Canada
When: Sundays: 09:00 – 16:00
Web: http://westislandfleamarket.com/
2: Eco Depot Montréal – Montreal
Eco Depot Montréal are somewhat expert in the field of up-cycling, repurposing and DIY design. The large store is filled with amazing items, many of which have been worked on by staff in house. What these guys do not know about reclamation of second hand wares is probably not worth knowing.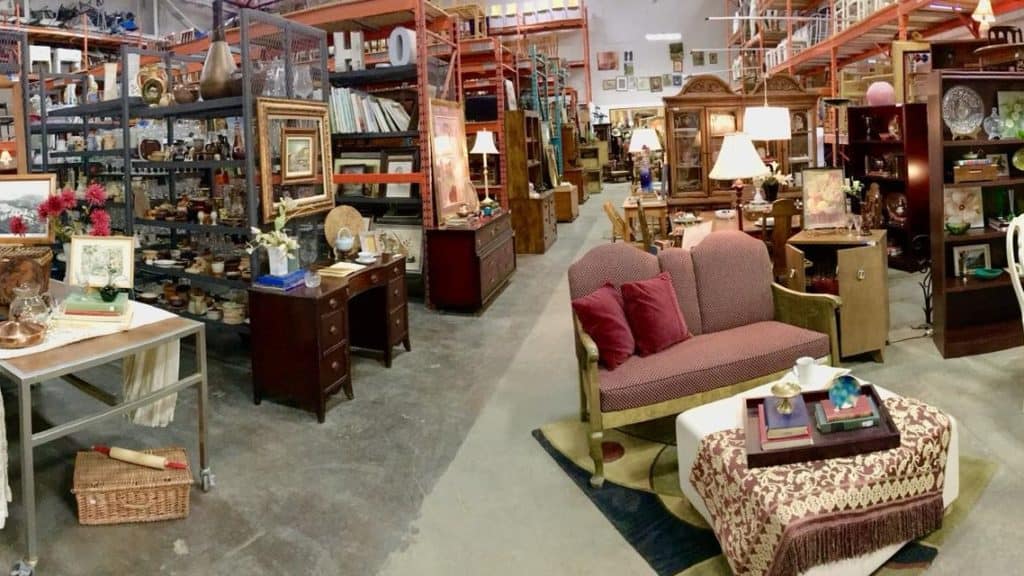 Of course, for those not seeking inspiration for a do-it-yourself kind of project, there is plenty within Eco Depot Montréal to buy. Staff are on hand to provide help with purchases, so there is no need to restrict what you buy! Eco Depot Montréal strives to support the community too, and a percentage of their annual profit is donated. What more excuses are needed to spend a lot of money here.
Where: Suite 108 B, 150 Boulevard Montréal-Toronto, Lachine, QC H8S 1B8, Canada
When: Monday – Wednesday: 10:00 – 18:00, Thursday, Friday: 10:00 – 21:00
Web: https://ecodepotmontreal.com/en/
Bonus: Canada's flea markets on a map!
You can now visualize the best flea markets and antique fairs in Canada, on a map! Not only have we included all the above flea markets in Quebec, but we've added to the mix some of Canada's most acclaimed antique fairs (Ontario and British Columbia). Just click on the image below to access our map feature for free.