Like Paris, Milan and London, New York City is famous for its designer and vintage clothing scene. As a matter of facts, the New York Fashion Week (NYFW) is one of the most anticipated event in the fashion industry. And with such influence, it's no surprise that the Big Apple is also a real treasure trove for vintage enthusiasts. Chanel, Dior, Prada, D&G, Gucci, Yves Saint Laurent are some of the names that make it to select "second-hand" shops in Manhattan and Brooklyn.
But shopping for vintage clothing and accessories in New York City can quickly turn into a daunting task if you don't know where to go. With thousands of vintage clothing shops and boutiques around the city, it is usually hard to sort out the wheat from the chaff, and not get ripped off in the process. But we're here to help!
From $10 retro accessories to $1,000 vintage designer dresses, here are our top 10 favorite vintage clothing shops in New York City for absolutely all budgets.
Vintage Clothing Shop #10: Beacon's Closet (Manhattan and Brooklyn)
A true institution in New York, Beacon's Closet opened its first store back in 1997 in Brooklyn. Competitive prices and a broad offer of vintage clothing, are the two main assets of the brand. However, get ready to roll up your sleeves if you're looking forward to finding a hidden gem among the jungle of vintage clothes, shoes, bags and accessories around you. But the game is truly worth the candle.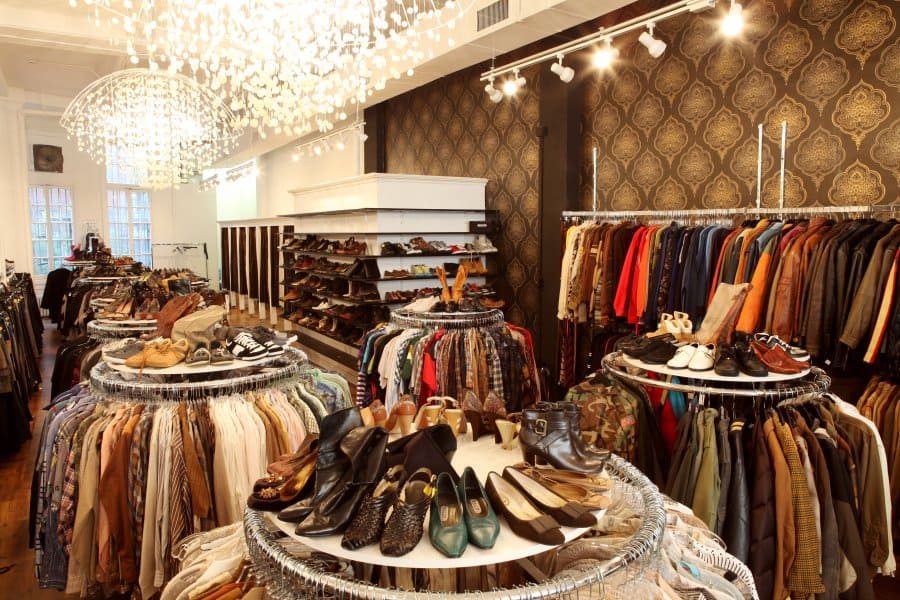 We like: the idea of sorting vintage clothing and accessories by color, which really simplifies the search.
Where: 10 W 13th St, New York, NY 10011, USA (Manhattan), 23 Bogart St, Brooklyn, NY 11206, USA (Bushwick), 92 5th Ave, Brooklyn, NY 11217, USA (Park Slope), 74 Guernsey St, Brooklyn, NY 11222, USA (Greenpoint)
Website: beaconscloset.com
Vintage Clothing Shop #9: 10 ft Single by Sophie Dallas (Williamsburg)
When standing outside of the shop, one has no idea of how big this place is. A gigantic cave of Ali Baba, 10 ft Single by Sophie Dallas has all sort of vintage stuff on sale, ranging from vintage clothing, hats, shoes, to belts, sunglasses, and jewelry. This place offers a wide choice of vintage clothing for men and women at low prices (less than $20 for a top).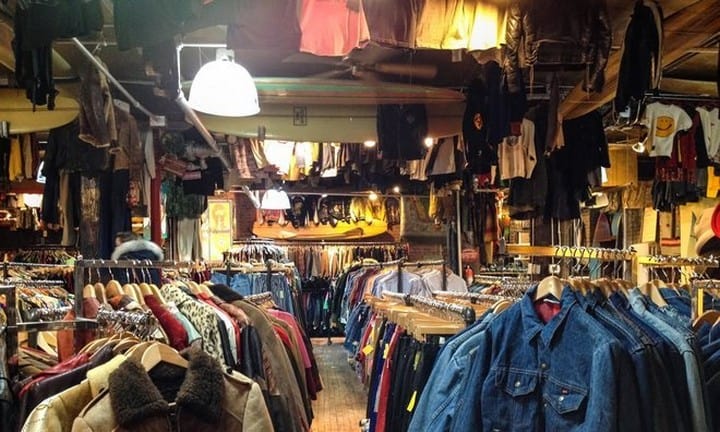 We like: the uncanny collection of military clothes that we haven't seen in such great quantities in other places.
Where: 285 N 6th St, Brooklyn, NY 11211, USA
Website: Yelp
Vintage Clothing Shop #8: Awoke Vintage (Williamsburg)
This eclectic and charming Williamsburg store sells all kind of vintage clothing and accessories. Albeit pricey for the average vintage shopper, it is still affordable considering the neighborhood. If you're fond of dresses with colorful and floral patterns, as well as Peter Pan collars (around $70), you found your place. You will be hard pressed to leave without buying something!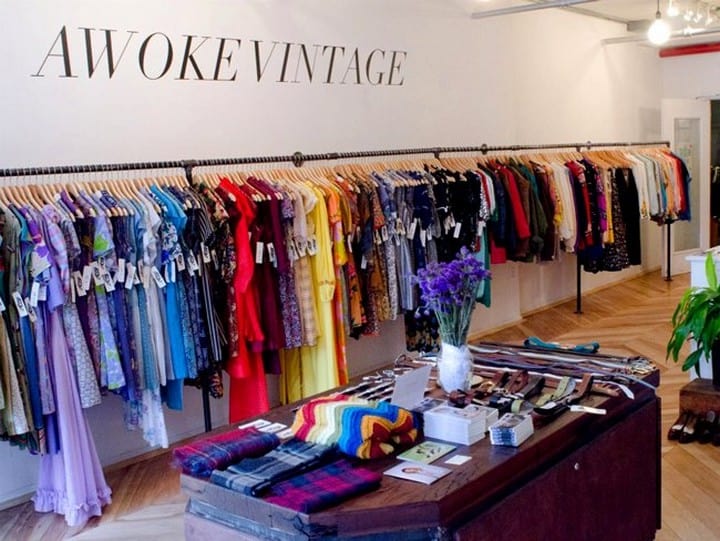 We like: the great selection of funky socks with graphics on them.
Where: 132 N 5th St, Brooklyn, NY 11211, USA
Website: awokevintage.com
Vintage Clothing Shop #7: Horizons Vintage (Williamsburg)
Breanne, the owner of this Metropolitan Avenue vintage clothing shop will great you with a warm welcome, and you will quickly feel comfortable spending a bit of time in mulling around. People come to Horizon Vintage especially for the carefully curated but playful selection of women's handbags, jewelry, vintage clothing, and shoes.
Every vintage clothing item is fairly priced and in great condition, and you can treat yourself to less than a hundred dollars (about $80 for a top and $90 for a skirt). You might even get a discount if you buy multiple items.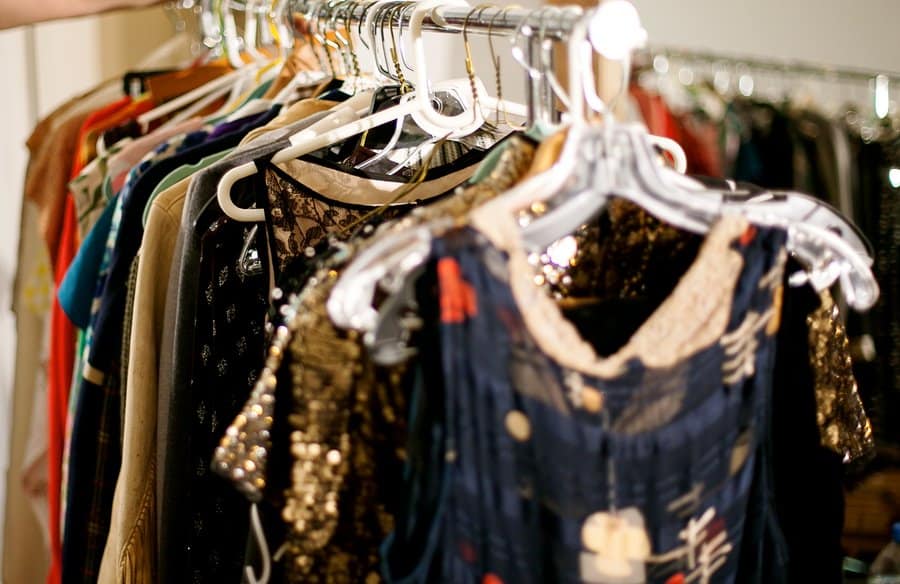 We like: the relatively reasonably priced vintage clothing items (compared to other vintage stores around) and the special pop up events with local designers.
Where: 377 Metropolitan Ave, Brooklyn, NY 11211, USA
Instagram: horizonsvintage
Vintage Clothing Shop #6: New York Vintage (Chelsea)
In this cozy Chelsea shop, shoppers will find vintage Chanel clothing alongside Prada and Yves Saint Laurent. No wonder why New York Vintage is considered by many as the ultimate source for vintage clothing and vintage couture fashion in New York City.
A welcoming and cozy atmosphere, a knowledgeable staff, museum quality fashion and one of a kind vintage clothing pieces; this address is worth a visit even if prices are high, very high. I guess that's the price of fame when you've got Lady Gaga, Anna Wintour and Saudi Princesses shopping in there.
Prices start at $ 100 up to $ 1,000 for the best pieces. And if you're not into this level of vintage clothing collecting, this shop still merits your attention: you should have a look at the archival vintage clothing collection located upstairs, to enjoy from a little time travel offered by the shop.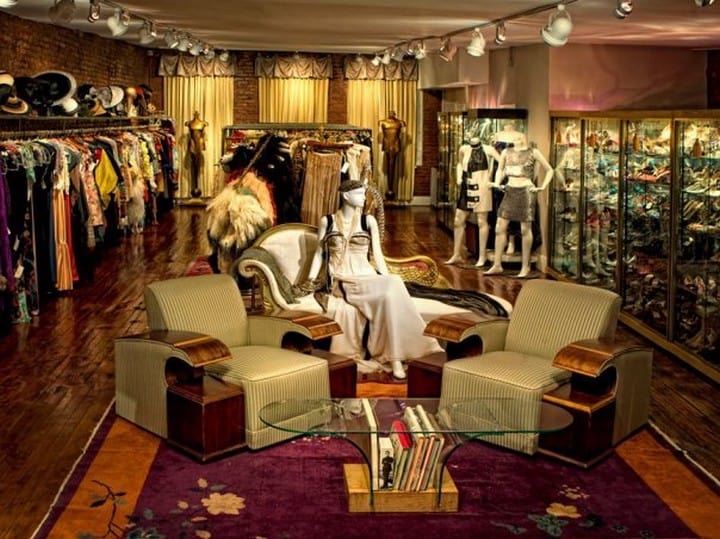 We like: the amazing quality of vintage clothing, particularly if you're into high quality and rare vintage. Also, each article of clothing has a tag that is labeled with a short description of it which puts it into context.
Where: 117 W 25th St, New York, NY 10001, USA
Website: newyorkvintage.com
Vintage Clothing Shop #5: Edith Machinist (Lower East Side)
This hidden gem in the Lower East Side has a beautiful selection of bags. Gorgeous and handpicked vintage finds line every corner of the shop and the sales staff leave you alone to browse at your own leisure, which is appreciated when all you want to do is ogle. Edith Machinist features every type of vintage clothing and accessories from turn of the century styles to 1960's and 70's mod (bags are mostly 70s-80s, shoes 50s-80s, boots 70s, and vintage clothing is 60s-centric).
It's pricey (think $75-$150+ for a handbag and $100-$250 for boots) but you can find some decent deals if you dig. Shoe enthusiasts will be filled: wedge heels, pumps, ballerinas, sandals… you name it. Fewer choices in vintage clothing than elsewhere but the selection of bags, shoes and accessories is like nowhere else and of top quality (Chanel, Christian Dior, Givenchy, Ferragamo). You could find them much cheaper at thrift stores, but, you couldn't find this selection all in one place.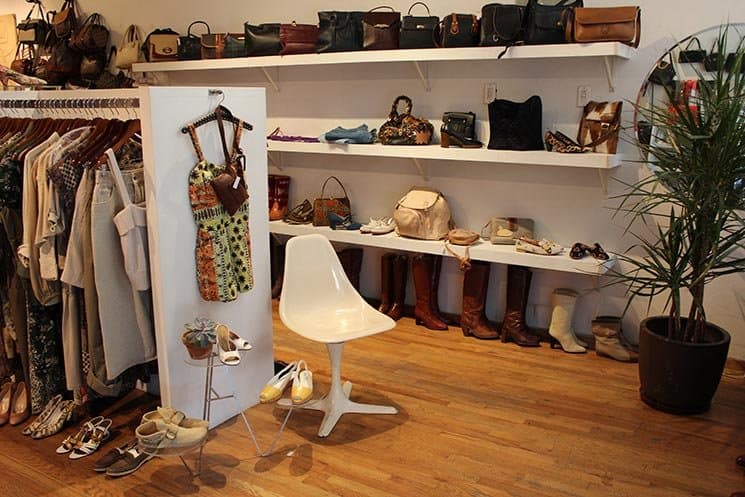 We like: the shoes and bags collection, which is insane.
Where: 104 Rivington St, New York, NY 10002, USA
Website: edithmachinist.com
Vintage Clothing Shop #4: AuH2O (East Village)
AuH2O is a curated thrift and vintage boutique owned by Kate Goldwater (Au=Gold, H2O=water, get it?). The place features a really affordable (most items in the store are priced under $25) blend of women's recycled vintage clothing, shoes and accessories, and an awesome selection of vintage jewelry and paradise necklace. Though it is quite small compared to other thrift stores, the clothes quality and neatness compensates that. And you can even shop online on their Etsy store!
Cute and affordable. AuH2O is definitely one of our favorite vintage clothing shops in Brooklyn.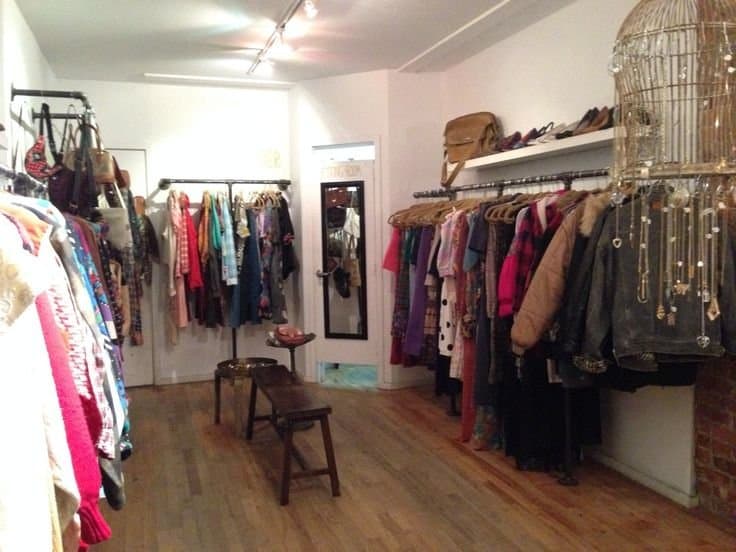 We like: the $5 rack and the $10 or less section
Where: 84 E 7th St, Brooklyn, NY 11218, USA
Website: auh2oshop.com
Vintage Clothing Shop #3: Eleven Consignment Boutique (East Village)
As its name suggests it, Eleven Consignment Boutique specializes in consignment sales. If you're not familiar with consignment shops, these venues provide customers with a place to display and sell their merchandise. The consignment store decide what they are willing to sell and for what price. After the sell has been completed, the consignment shop and the owner split the profits (the shop generally keeps a 25% to 60% commission). If an item does not sell after a certain period of time, the owner has the ability to retrieve the items from the consignment shop.
We've all heard stories and negative feedback from angry consignees who sold their merchandises through Eleven Consignment Boutique. From a shopper point of view however, this venue is absolutely worth a visit. Whether you're looking for evening or day wear, Eleven Consignment Boutique should make you happy. The vintage clothing, which are in near mint condition, are of quality like the Chanel jacket, Marc Jacobs bag and Christian Louboutin vintage shoes we saw. Expect to pay $30 for a pair of shorts, and between $125 and $350 for a dress. Nice selection of tops with pretty finishing (around $50).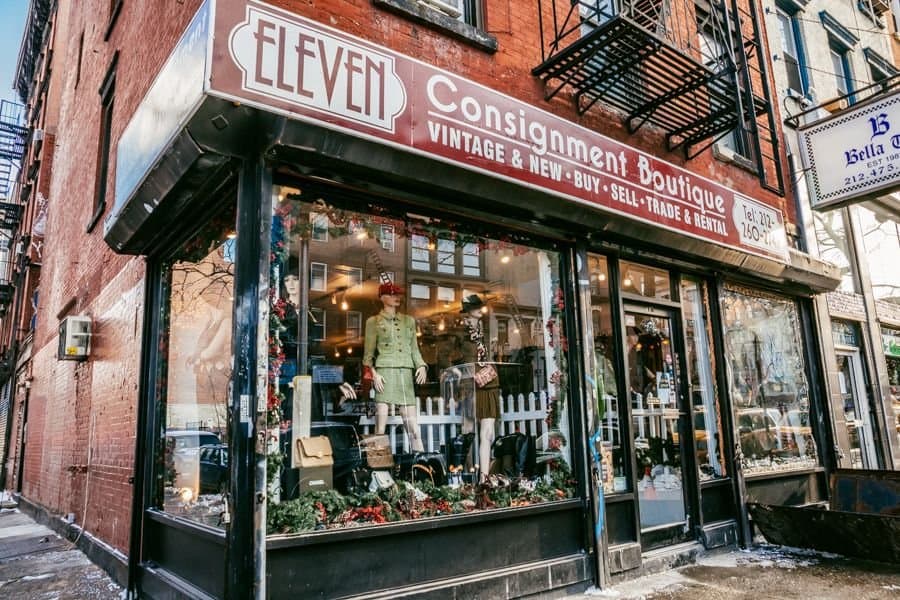 We like: the deeply discounted designer goods and vintage clothing.
Where: 180 1st Ave, New York, NY 10009, USA
Website: elevenconsignmentboutique.co
Vintage Clothing Shop #2: No Relation Vintage (East Village)
Thrift stores are a hit or miss: you hope for the best and look around for something nice. Luckily, No Relation Vintage features racks of overalls, denim jackets, leather jackets, button-ups, and tons of different shirts, as well as an impressive selection of shoes of brands like Adidas, Nike and even Doc Martens. Clothing in here is also truly vintage, with tons of great pieces especially from the 50s, 60s, 70s and 80s.
This store is perfect for people on a budget: Shorts for 5$, skirts for $8, denim jackets for 10$, and most of the shoes for 20-30$. And the icing on the cake: the men's department is just as lush as the women's.
Founded in Brooklyn back in 1999, No Relation Vintage has today 6 stores throughout New York City.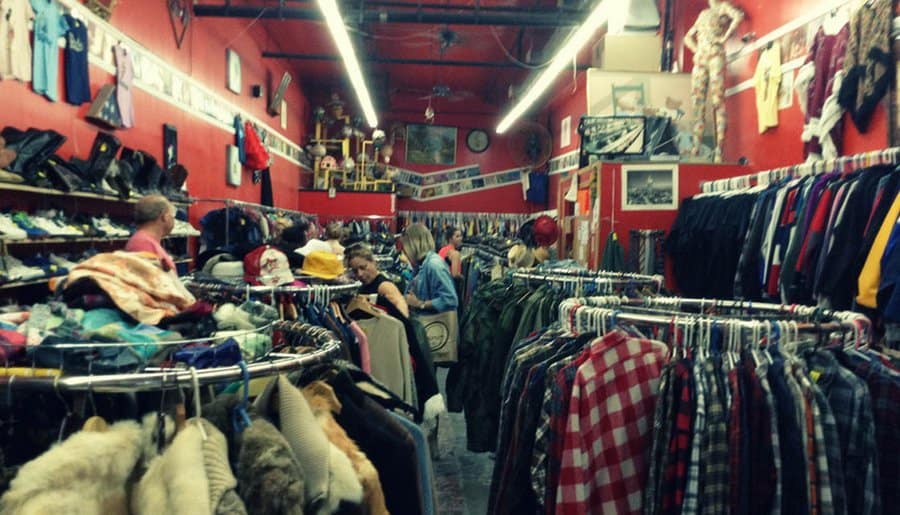 We like: this place has a big selection of vintage clothing and shoes, and prices are more than reasonable.
Where: 204 1st Ave, New York, NY 10009, USA (No Relation Vintage) and 654 Sackett St, Brooklyn, NY 11217, USA (L Train Vintage)
Website: norelationvintage.com
Vintage Clothing Shop #1: Angela's Vintage Boutique (East Village)
This charming little shop tucked away from all of the madness of the East Village, offers original vintage clothing and accessories, in almost mint condition. Angela's niche is 20's-80's wares, so you really won't find any hipster retro tees here.
Angela's has arguably the best selection of beaded 1920s dresses in New York (like most sparkly things expect to pay $400-600). Her boutique is also notable for the large assortment of gorgeous and unique vintage slips, with most prices in the $80-150 range for an embroidered silk slip. She also has a good assortment of 1950s dresses, with a few here and there from the 1940s, and those run around $120.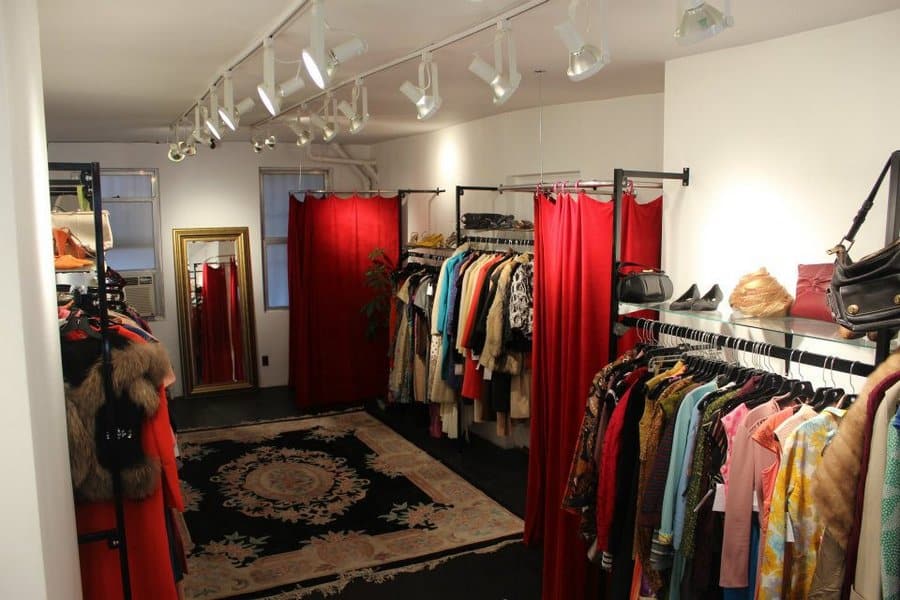 We like: Angela's service and enthusiasm is welcoming, a rare characteristic in NYC shops.
Where: 26 2nd Ave, New York, NY 10003, USA
Website: properpix.com / Facebook
Book your stay in New York City